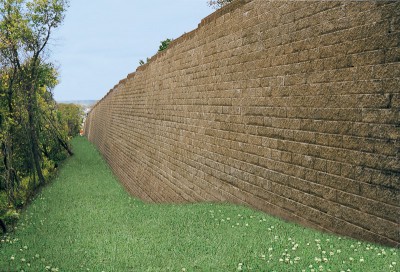 Anchor™ Wall Systems develops attractive, durable, easy-to install retaining and free-standing wall systems.
The end result is anything that can be imagined—innovative, lasting landscapes and environmentally sound walls that complement any outdoor environment. With a wide array of styles, shapes and textures made from natural materials, Anchor Wall Systems lets consumers and contractors design and build something beautiful.
Outdoor areas of any size or shape can be transformed with Anchor™ products. Colors, shapes and textures of Anchor products blend with the environment to create attractive and functional landscape features.
Block USA Produces:
---
Aspen Stone® retaining wall system
Diamond® retaining wall system
Diamond Pro® retaining wall system
Diamond Stone Cut® retaining wall system
Diamond Pro® 1-Piece
Diamond Pro® 3-Piece
Highland Stone® wall system
Highland Stone® Freestanding
Vertica®/Vertica Pro® retaining wall system
Block USA is a licensed manufacturer of Anchor Wall Systems products.
---