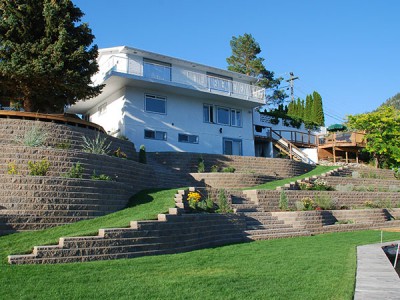 Allan Blocks are "dry-stacked" without the need for footings, mortar or fancy connectors. Allan Blocks lock together by design with unique, patented locking features so every block stays in place once they are stacked together.
Block USA manufactures units from the AB Collection, a family of retaining wall products which brings a refined look of classic beauty to any landscape.
The AB Collection of products has been a favorite of wall builders and homeowners for years. Whether you are building a simple raised garden or tackling a major hillside, the AB Collection will provide just what you need.
The AB Collection is easy to install. These blocks dry-stack without mortar or footings. The hollow core feature makes them easier to handle and promotes good drainage behind the wall. The raised lip and notch lock each block in place and creates a natural setback. Use one sized block or mix the different block sizes together in the wall to capture the look of hand laid stone. The AB Collection is right at home in residential settings where retaining walls 6' and under are typically called for, and up to the task on larger retaining walls 6' and over.
---